Our Story:
Karen is a fashion buyer who likes to travel around the world to discover the world. She found various unique graffiti arts throughout her journey. These graffiti all have different styles and reflect young people's yearning for freedom.
Otis, Karen's friend, is a street artist and Karen wanted to share Otis's fantastic graffiti artworks with the world. Therefore, she came up with the idea of combining arts and fashion. Oukku was then born. They wanted to bring 3D illusion graffiti art to our daily objects, such as printing them on clothes, mugs, and other everyday essentials.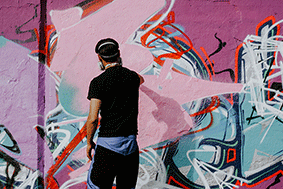 They made a 'Call to action' for freedom, spreading their concept of freedom, diversity, and creativity to a group of young street artists who also yearned for freedom, and attracted them to join the big family of Oukku. Since then, Otis has led these young people and designed various patterns that speak for them. Karen is mainly responsible for marketing and introducing the latest 3D graphic printing technology to showcase their designs on daily objects. This group of enthusiastic young artists have been continuing to create their value and show their independent personalities via various artworks.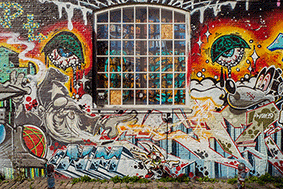 At the same time, Karen also introduced all kinds of novelties that she discovered on her journey. The wonders you find at Oukku are unique and astonishing, and they not only make your life full of fun, but it is also a way of showing the uniqueness of your life.
The Origin Of Our Logo:
Two young teenagers came up with the idea of using an octopus for Oukku's logo. An octopus's ink represents the spray paint of these freelance creators. Their artworks are novel, engaging, and yearning for freedom. The eight tentacles of the octopus represent the different personalities of a person; the artists' designs reflect their personalities, which provided a diversified art space.
The octopus represents the vision of Oukku is to embrace freedom, creativity, and diversity.